The Experience Music Lab is an online video series for kids.   Content is created at Ripke Studio and compiled on a web page for each school providing fun music experiences for pre-K to High School students.
With generous funding from the Michigan Humanities Council, Ripke Studio is partnering with these organizations on this project.
Ann Arbor Public Schools
Pattengill Elementary
Brighton Area Schools
Tot Spot
First Steps Preschool
South Arbor Charter Academy
First Presbyterian Children's Care
Here are some video clips from the Experience Music Lab.
I am heading back in to the studio with my band, the CARMa Quartet.  This group consists of two grammy award winning musicians including harmonica legend, Peter "Madcat" Ruth and John Churchville on the unique Tabla / Drumset.  Rounding out the quartet , along with myself, is bassist extraordinaire Brennan Duncan Andes who has played with and led some of Michigan's most critically acclaimed and top drawing bands.  
We will be working on this album throughout the winter and into the spring.   It is honor to share creative studio time with these incredible musician's.  It still amazes me that I am working closely with artists like Madcat who has recorded and toured with jazz legend Dave Brubeck in the 60's.   The end product will be an incredible consolidation and cross-polinization of each of our decades long curated music styles.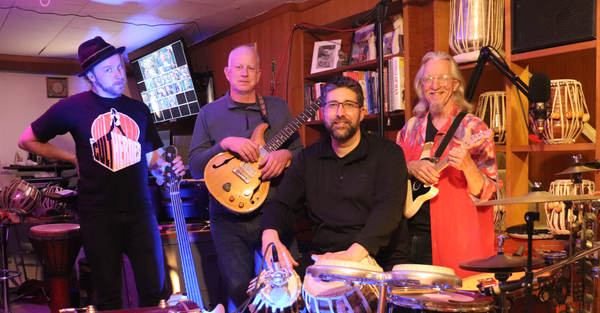 Here are some short clips if the CARMa Quartet Album in progress.
Ripke - Instrumental Album
I have also been working on a solo- instrumental album at Ripke Studio.  This "Solo" album will have a few featured guest musicians and will criss cross many different sounds, genres of music, and moods.
Each student has their own unique web page that contains lesson & reference materials.  Your web page is located at 
https://ripkestudio.com/YOURFIRSTNAME
Ripke Studio Student Concert & Jam Session
This event is for all students at all ages and levels.  
It offers the excitement of performing in a relaxed and encouraging environment.
I hope to have a mix of performances across a wide range of ages and skill levels.
For young musicians let me know if your child wants to perform.
The student performance section will feature the "BroTatos" kids rock band.
I will have more details in the months to come.
Click on the band pic to visit the CarMa Quartet website.
All four members of this new band are veteran musicians of the Michigan music scene.
Peter Madcat Ruth is a Grammy Award-winning virtuoso harmonica player based out of Ann Arbor, Michigan. He has established an international reputation through his exhilarating, riveting virtuosity on the harmonica. His expertise on this instrument has amazed audiences world-wide. Performance Magazine refers to him as "A harmonica virtuoso who is rapidly approaching legend status." But Madcat doesn't just play harmonica. He also sings and plays ukulele, guitar, high-hat, jaw-harp, penny-whistle, kalimba, and other folk instruments from around the world. Madcat's repertoire of styles includes Blues, American Roots Music, Folk Music, Jazz, and World Music.
John Churchville is a Grammy Award winning tabla player now living in Ann Arbor, Michigan.  John got his start in music in Marquette, Michigan.  From there he moved to California to attend the esteemed California Institute of the Arts where he earned a degree in World Music Performance and began a decades long journey with the Indian tabla drums.  Moving to Ann Arbor in 2006, John forged a unique path in both the music scene and in music education.  At the same time, John was also recording, performing and developing his unique style of tabla drumming with the award winning Indian fusion group, Sumkali. 
Brennan Andes has been a diverse member and bon vivant of the Ann Arbor's music scene for over two decades.  Having toured nationally and internationally, he's curated an attitude towards making his friends, fans and family dance and smile.  His only aspiration is to continue teaching and playing with passion and intensity.  Founder of The Macpodz, he's also performed with a variety of artists from the region and beyond including Luke Winslow-King, George Bedard, Peter Madcat Ruth, Shigeto, Sumkali, The Ragbirds, Rootsand, 7 Chakras, Jamie Register, Chris Bathgate, Jen Sygit, Seth Bernard, May Erlewine, Andy Adamson Quintet, Chris Good, Dick Siegal, The Tone Farmers, Vincent York, The Pherotones, and many others.
Dan Ripke has been a professional musician and educator for nearly 30 years.  He is the owner and director of Ripke Studio, providing unique performance and educational experiences to people of all ages.  Dan began recording albums and organizing music festivals in 1992.  He performed with the experimental jazz-folk-funk fusion band, Perplex, while studying music theory and composition at Delta College and Central Michigan University.  Dan toured and performed with the rock-bluegrass quintet, Back Forty, for 15 years.  The band took the stage at many of Michigan and the Midwest's largest and most prestigious venues and festivals.  After Back Forty, Dan took an exploratory dive into Indian music with the band, Sumkali.  He performed with Sumkali for nine years, recording two albums.  His fondness for many musical genres shows in his playing.  Performing a hundred-year-old folk tune followed by a funk jam is heaven for him.